WELCOME TO THE DRUMBA ZONE
YOU WERE GREAT AT DRUMBA, SO WHY NOT HAVE A GO AT HOME, WATCH THE TRAILER!
TRAILER
STATS:


HAVE A GO AT OUR DRUMBA MINI MIXX
11 minutes
IF YOU HAVEN'T GOT ANY EQUIPMENT, GRAB SOME CUSHIONS AND SOME WOODEN SPOONS AND YOU'RE GOOD TO GO. DON'T FORGET TO ASK YOUR PARENTS OR GUARDIANS PERMISSION FIRST!
1. DESIRE. 2. PUMP IT. 3. FIREBALL.
BONUS
IF YOU'D LIKE TO JOIN IN AGAIN AT HOME, YOU CAN BUY SOUVENIR STICKS AND DRUM PADS HERE: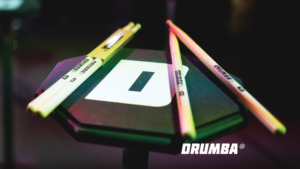 THANK YOU FOR WATCHING
👋
DON'T FORGET TO FOLLOW US ON SOCIAL MEDIA
Click the images below